Tennessee Game Days 2018 Schedule
Below is an interactive map of the weekend's schedule. Clicking on any entry will take you to more information about the event. See an event that you want to join? We ask that if you sign up, you need to show up or let the host know that you are out. Signing up for a tour is a commitment - you will likely be playing games for four hours or more - but that's why you are at TGD in the first place, right? Sign ups can be done here.
If you need to check the current tour sign ups for any reason, you can do so at this link
Hope you are planning to join us at TGD 13!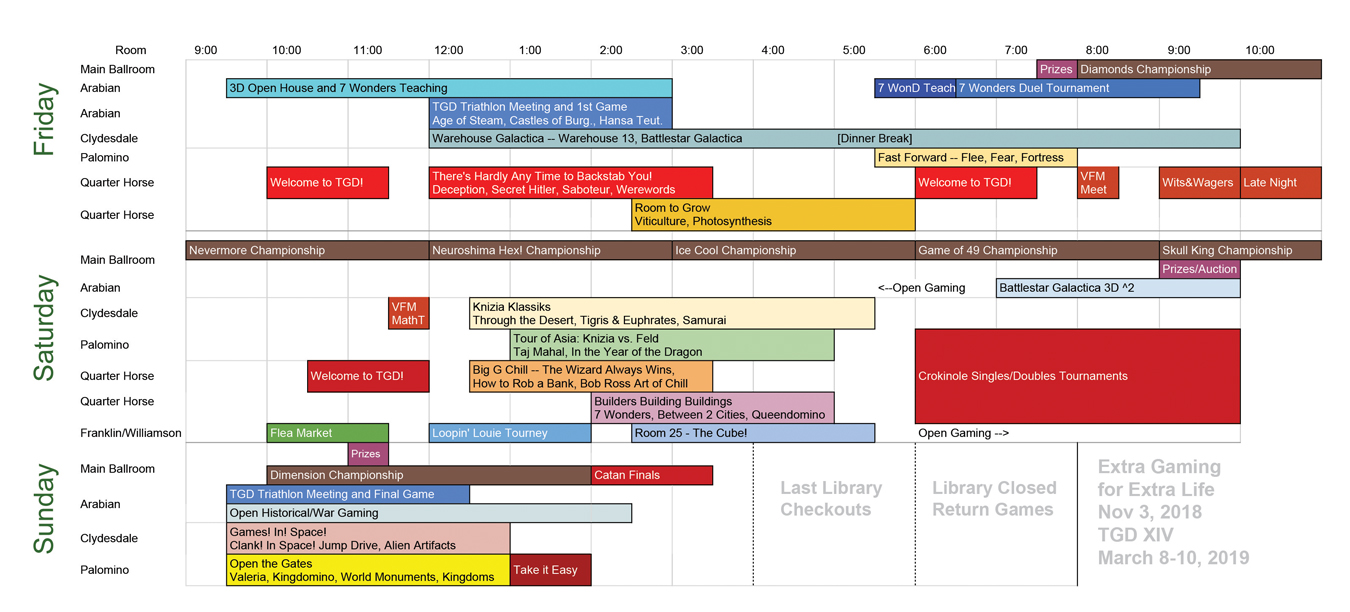 3D Open House: Fri 9a-3p - A Come-and-Go Event by Craig Hebert @Arabian.


Past TGD events have featured Craig's awesomely crafted enhanced board game creations. Several of his favorites will be setup throughout the day. Feel free to swing by to ogle, play, or learn a game or three. Also, 7 Wonders Duel teaching available. Back to top
Battlestar Galactica 3D2 VI: Sat 7p - Craig Hebert and Russ Rupe @Arabian.


This is EPIC base game BSG with few expansion elements. Rule modifications are included to accommodate a final 10 player table battle. BSG experience is required. For TGD XIII, There will be NEW refinements and a few NEW surprises. The "downtime reducing" opposite active player/one action refinement worked well, and will be used again. The two games will again be separated and merge at the large, worthy round table in the back - scene of much carnage in years gone by. This is a 10 player game subject to additional minor changes.Back to top
7 Wonders Duel Tournament: Fri 6:30p - Craig Hebert @Arabian. Prizes for winner and runner-up (no stamps).


Single elimination. 7 Wonders Duel experience is required. There will be a teaching session starting promptly at 5:30p, but no instruction once we get started. Back to top
Big G Chill: Bob Ross: Art of Chill, The Wizard Always Wins, How to Rob a Bank, Sat 12:30p - Allen Hatcher with Russ & Rick @ Quarter Horse


Chillax with solid titles from a Nashville based publisher, Big G. I'm ready to paint some happy trees, how about you? Back to top
Builders Building Buildings: Between 2 Cities with Capital Expansion, Queendomino, 7 Wonders - Sat 2p - Bo Link, Russ Rupe @Quarter Horse.


Builders gotsta build, and it's wonderful. What more can we say? Back to top
Crokinole Tournament (Singles/Doubles): Sat 6p - Event by Kevin Barlow @Palomino.


Prizes for winners (no stamps). Warm up that flicking finger and come have some fun in the annual TGD Crokinole tournament. Back to top
Fast Forward! - FF: Fear, FF: Flee, FF: Fortress - Fri 5:30p - Mark Jackson @Palomino.


Three examples of an innovative new style of game from Friedman Friese. The game introduces rules as you play, so you can get started quickly and learn as you go. Back to top
Flea Market - Sat 10-11:30a - @Williamson and Franklin.


It's everyone's favorite bargain-fest! Sellers, we are asking you to help support our Second Harvest Charity Auction by either making a cash donation (suggested: ~$5/half table you are occupying) or by donating a game to be put in the Second Harvest charity auction. Buyers, it's always busy and chaotic; please be kind and careful. Back to top
Games! In! Space! - Jump Drive, Clank! In Space!, Alien Artifacts - Sun 9:30a - Mark Jackson @ Clydesdale.


You don't have to launch your car into orbit to experience awesome space adventures. Come check out these new 2017 space themed games from a variety of publishers.Back to top
Knizia Klassiks - Through the Desert, Tigris & Euphrates, Samurai - Sat 12:30p - Andy Miller, Malachi Brown @Clydesdale.


This tour will revisit some of Knizia's unconfirmed tile laying trilogy. Extraneous K's may or may not be involved in the execution of this tour. (or "exekution" . . . if we want to encourage that sort of behavior.) Back to top
Late Night Silliness - Happy Salmon, Shifty Eyed Spies, Sticky Chameleons, Pit Crew - Fri after Wits & Wagers, around 10p - Rick Keuler @Quarter Horse.


Come laugh with Rick! Not at him . . . cut that out. Back to top
Loopin' Louie (Adults) & Loopin' Louie (Kids) Tournaments: Sat noon/12:30p (Adults/Kids) - Event by Craig Hebert @Arabian. Prizes for winners (no stamps).


Protect your chickens! Kid's tourney follows after adults'. Back to top
Open Historical/War Gaming - Sun 9:30a - Event by Craig Hebert @Arabian.


A few of Craig's awesomely crafted enhanced historical and war game creations will be available for teaching and play. Back to top
Open the Gates - Valeria Card Game, Kingdomino, World Monuments, Kingdoms - Sun 9:30a - Devin Wayne, Michael Bennet @Palomino.


This quartet of gateway games will help you raise the porticos of gaming goodness! Back to top
Room 25 The Cube Variant III - Sat 11:30a - 2:00 Event by Craig Hebert @Arabian.


Room 25 variant, inspired by the horror flick "The Cube" for up to 30 players. Explore 5 floors of 125 rooms in order to find The ONE (and only) escape. This year: MORE ECLECTIC characters........MORE PRIZES......MORE INTERACTION.....NEW ITEMS TO FIND.......NEW DANGERS......AND MORE NEW NEW NEW. It's not often you can play a single coherent game with up to 30 players in 2 1/2 hours, but THIS IS IT. This year we feature a full Cube - 125 rooms - regardless of how many players we have. Have a great time while not getting pushed into an Acid Bath. Back to top
Room to Grow - Viticulture Essential Edition, Photosynthesis - Fri 2:30p - Eric Jackson, Jason Pack @Quarter Horse.


Come grow some stuff! These are some solid titles based around the exciting theme of horticulture. No really. :) Back to top
Take it Easy! 13th Annual Event: Sun 1p - by Rick Keuler @Palomino. Prizes for winners (no stamps).


Enjoy some number calling and heckling as we attempt to see who can achieve the high score of the day! No sign ups required, just show up and play! Back to top
TGD Triathlon I - Friday - 12:00p - 3:00 Game #1 of 3, Saturday - Game #2 - to be played anytime between Game #1 and Game #3, Sunday - 9:30a-12:30p - Game #3 of 3. Event organized by Craig Herbert


NEW for 2018, a 3 game tournament for strategy gaming supremacy. Played out over 3 days, only the very best will emerge as this year's "Ironman". This event requires a minimum of 6 players. The games are Age of Steam, Hansa Teutonica, and Castles of Burgundy. Points will be rewarded for each finishing position in each game. Experience with all three games is required. Prizes for 1st, 2nd, and 3rd. Attendance at the Friday meeting is necessary as explanations will be given and score sheets handed out. Back to top
There's Hardly Any Time to Backstab You! - Deception, Secret Hitler, Werewords, Saboteur - Fri noon - Russ Rupe @Quarter Horse.


The Traitor is hidden, but not for long! These are quick playing social deduction games that support up to 10 players (we'll do x2 because that's what we do). Back to top
Tour of Asia: Kinizia vs Feld - Taj Mahal, In the Year of the Dragon - Sat 1p - David Helms, Rick Keuler @Palomino.


Two renowned designers with games set in Asia . . . is this continent big enough for the two of them? Back to top
Warehouse Galactica - Warehouse 13, Battlestar Galactica - Fri noon - Michael Aldridge, Shawn Smith @Clydesdale.


Two epic SyFy shows, one epic tour. Both are epic hidden traitor games dripping with theme, though you'll enjoy them even if you didn't watch the shows. Warehouse 13 successfully Kickstarted last fall. There will be a break for dinner: Imagine Greater Tacos. Back to top
Welcome to TGD! -


There are no sign ups for this event. It is a meet and greet and game for people who are first timers to TGD or for those who feel new and may not know a lot of other attendees. We will play some short but solid titles and give a few tips for what TGD is all about. Back to top
Wits & Wagers Game Show - Fri 9p - by Rick Keuler and Russ Rupe @Quarter Horse. Prizes for winners (no stamps).


Get a team of three people together, or just show up as a free agent. However, the prize will be geared toward a gaming group (i.e. 1 big prize, 2 smaller prizes). Features special TGD themed questions. No sign ups required, just show up and play! Back to top