Tennessee Game Days 6 - March 11 - 13, 2011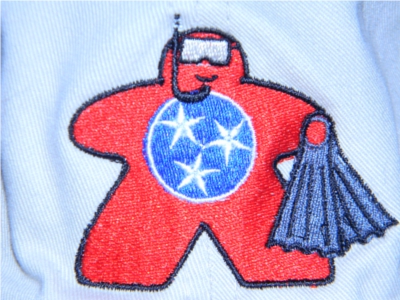 When the TGPA asked me to be a part of TGD VII, I initially declined. The experiences of the Mayday Flood of 2010 were still too fresh. The more I thought about it, I came to the decision that maybe it would be a good idea - to help the healing along. But when they made me pose with that snorkel and those flippers, I almost changed my mind and walked out right there. Only their promises of an expanded and greater presence at the convention itself, of being closer to the gaming action, kept me committed to the event.
Like years prior, Tennessee Game Days VI encompassed three solid days of gaming, beginning first thing on Friday morning, at around 8 am and continuing non-stop through Sunday evening. The format once again was centered on open gaming with a smattering of organized events throughout the weekend - some of which were perfect opportunities for those new to gaming conventions to jump right into some games and get to know some fellow gamers. Friday morning saw about twenty gamers hit the tables right away and those numbers grew as the day continued - all told over one hundred fun and active gamers attended the event.
Throughout the weekend, I had an incredible, close up view of the unboxing and set up of some of the latest hot games and old favorites as well. I saw Dominion, Seven Wonders, London, Space Alert, El Grande, Puerto Rico, Medici, and many more. Unfortunately, being closer to the action, didn't actually increase my chance to play these great titles. My "expanded role" could have been filled by a rough cut 2 x 4 with a hole drilled in the top. Just when a game was about to get exciting, I was whisked away to another table where some other gamers were looking for a player or two more. From time to time, I also got glimpse of some amazing custom made copies of some great games like Acquire and Lord of the Rings - but those games never had trouble attracting gamers, so my views of them remained from afar. Don't get me wrong, I was happy to help so many games find players and get started, but I wanted to be part of all the fun that was happening all around me! Later that weekend, however, I got my chance.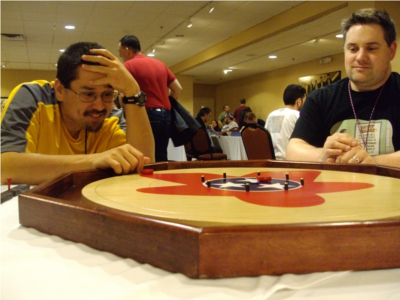 Some of the organized events included a Wits & Wagers Tournament. Twelve teams competed for the trivia title and copies of the game, donated by North Star Games. There was the annual Take it Easy tournament, sponsored by Games Surplus. It was a fun way to relax Sunday afternoon and, for some lucky gamers, win some great prizes. Another unique event to Tennessee Game Days was called the Tour of Gaming Destinations. Throughout the weekend, an experienced gamer lead those interested on a gaming tour - two or three gaming titles linked by a common theme or experience. These tours were great ways to meet some other people or learn some new games in a very friendly manner. Some tours also included some of the newest titles by popular publishers like Days of Wonder. Their Cargo Noir had only been on the market for a few days! I got my wish to be part of the fun during Saturday Night's big Crokinole Tournament - where both singles and doubles teams competed for prizes donated by Time Well Spent Games. Unfortunately, as you can see, the way I was able to get involved was not what I had in mind, and hardly dignified for a meeple of my stature. Not at all.
With all that said, I'm sure glad that I decided to be a part of Tennessee Game Days VI. The game library was well stocked, with most of Boardgamegeek's Top 100 games as well as scores of other popular titles. Admission prices were reasonable, and those that stayed at the hotel played for free. Not only was the hotel on high ground, it had nicely appointed rooms, complimentary hot breakfast (with a crazy pancake machine, that was cool and freaky at the same time - push a button get a pancake!), and was in a convenient downtown location. Everything that downtown Nashville has to offer was just a short walk from the hotel's front doors. I am excited that Tennessee Game Days VII will be back at the same location. And I'll be back too, so come join me in March, and maybe we'll be able to play a game together.
- TGD Meeple