Tennessee Game Days Fall Events
Our fall event is smaller in size but with just as much gaming fun! We will have plenty of open gaming and the TGD library on hand. In addition to that, we have a couple planned events - with the possibility of some others added closer to the date. Keep an eye on our social media or sign up for our email newsletter to stay abreast of the latest info!
Tennessee Game Days Fall 2022
Weekend Schedule of Events

Doors Open at 2 pm on Friday, September 23rd
Main gaming room will stay continuously open until Sunday at 8 pm.
Library will close each evening around 11 pm and around 4 pm on Sunday.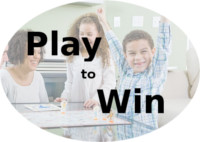 Back again this year is our TGD Play to Win promotion. Throughout the course of the weekend, players can select a game from our Play to Win selection provided by our generous sponsors. After playing the game, you and your fellow players will be eligible for a drawing held toward the end of the weekend -- the prize? Winning the copy of the game you played earlier.
The TGD Puzzle Hunt is back for 2022! What is a puzzle hunt? It is a puzzle game composed of a series of puzzles that share a theme or an overarching meta puzzle. Usually, each puzzle is not accompanied by explicit directions on how to solve it, but often its title or included images will hint at a way to proceed. This will be our second fall hunt! Teams of up to four people will work on solving the hunt and winning prizes! The fastest team and one random team from all the teams that finish in the time window will get a prize. We expect the event to take around ninety minutes. Puzzle hunts are becoming more popular and thought it might be a fun way for attendees to try them out!
Get in on the ground floor testing the next Wingspan in the Prototype Gaming Room! Designers will have their games available to play. Starting Saturday evening at 6pm, come by and try a new design. The designer will be on hand to teach and to answer questions and, most importantly, to accept helpful feedback after the play is over! This type of event is super helpful for new designs. Everyone that helps will get their name entered (for each game they played) into a drawing for a free game from Game Point Cafe. You help new designers, designers get helpful feedback, someone gets a new game -- everyone wins in the prototype room! Here is the link for designers to add their games. If you hit any snags in registering your game, just let us know!

We will continue to host our weekend long flea market that we like to call the Distributed Flea Market!
Read on for the details:

Buyers: Flea Market games for sale will be on the thin tables along the edges of the main ballroom all weekend. Anything under the tables is personal storage. Games will be clearly marked with price tags, and the seller will have their contact information clearly visible near their pile of games. They may even be playing at a nearby table. If the seller is out of pocket for a while, simply arrange another time to make your transaction. Be kind, be honest, be yourself.

Sellers: Read the Buyers' paragraph. There are about 30 thin tables along the edges. At first, please don't spread out to more than about half of one table (some are larger, some are smaller). That way we can accommodate 60 sellers. If we have fewer sellers by Friday night, feel free to expand your footprint. But if we end up with more people wanting to sell and not enough space, we may need you to trim it back at that time. Remember the main ballroom never closes so you might want to limit your sales to an amount that is easily packed up when you're ready to pack it in yourself.