Tennessee Game Days Fall V
Extra Gaming for Extra Life
Nov 15-17, 2019!
Five years ago, in addition to our annual spring event, we started a one day fall event to coincide with Extra Life - a charity fundraiser that benefits the Children's Miracle Network and furthers the work of local children's hospitals. That event soon grew to a 24 hour gaming marathon. This year it is growing again to a three day, 50 hour gaming weekend!
All proceeds from this weekend will benefit the Monroe Carrell Jr. Children's Hospital at Vanderbilt University. We are excited to again have the opportunity to do good while having fun!
Read on for all the details about what we'll have in store for the weekend. Hope that we'll see you there!
TGD Fall's 2020 Venue
Nashville Airport Marriott
Just minutes from BNA!
600 Marriott Dr.
Nashville, TN 37214.
Hotel Registration Page for TGD Fall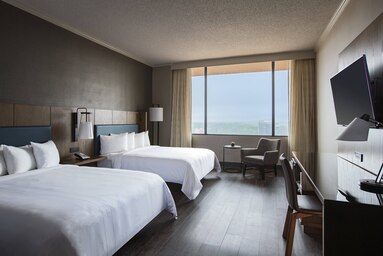 Our event is being graciously sponsored by the Nashville Airport Marriott, located just minutes north of the Nashville airport. The link above will let you purchase a room in the event's block for $149/night. The Room Block is only available until October 25th. You'll want to stay to be just seconds away from our 24 hour gaming ballroom. In addition to plenty of room for gaming, our location has free parking and great amenities on site, including a restaurant and coffee shop. We are so excited to forge this partnership with the Marriott and hope you'll consider staying on site to enhance your weekend and to help support the growth of this event!
We have one ballroom that will support around 170 gamers. With this limited amount of gaming space, we are using a pre-registration only model. We will not be selling tickets at the door, nor will there be single day passes. To maximize our fundraising impact for children's health, we are selling only individual passes at $30 for the weekend. Tickets can be purchased at this link.

Silent Auction
We also plan to run a silent auction throughout the weekend. The auction will be run through a third party app that will allow both those on site and those not able to participate to bid on a bunch of unique board game experiences. We are actively soliciting items now, so if you have something you'd like to contribute, drop us a line! More info to come.
Join our Extra Life Team
In addition to the fun open gaming, each year people have also joined our Extra Life team to help raise even more money for the kids! Plus, we offer some fun incentives for hitting certain fundraising levels as well. Want to help? It's pretty simple! First follow this link and join the Extra Gaming team (already raising money in another Extra Life team, just email us!). Then hit up that social media and share your effort with friends and family and ask them to help you raise money for children's health. As you raise more money, you earn more rewards!
$20 - More door prize entries! - Everyone that attends gets a ticket for purchasing their admission to enter for the chance to win a new board game. Then if you raise $20 through your Extra Life profile, you will get two more tickets. You can spread those tickets out amongst the games or go all in to win a certain one - it's up to you. Metagaming!
$70 - Even more door prize entries! - at $70 and then every $50 thereafter, we're going to give you three more tickets to win win win!
$100 - Attend TGD Spring Thursday Night - the well known secret is that TGD Spring actually starts Thursday evening for certain VIP gamers. Want to be in that exclusive group? Now you can! Raise $100 and you will get an invite to the not-so-secret Thursday Night Early Gaming!
$200 - Attend all of TGD for free - raise $200 and well comp your ticket to TGD Spring - so much gaming!
$500 - Free game! - raise $500 and Rick is going to buy you the game of your choice (less than $80 MSRP and that is in print and available through Game Point retail channels). Decisions, decisions . . .
Super special leader board award! - throughout the weekend, we will assess who has raised the most money through Extra Life so far, the top three will be given an exclusive table in the game ballroom for their use only! Not only will everyone bask in your greatness, but for that lucky person in table one, we'll also make a snack run for you as well to enjoy your new found place of honor. Enjoy the view your highness!

What is Tennessee Game Days?
Tennessee Game Days are a series of open gaming conventions held annually around Nashville, TN. Attendees from all over Tennessee, surrounding states, and from places far and wide, gather for three solid days of open gaming. All kinds of board and card games will be available for play and you can find willing opponents for just about any game. During the course of the event, we also try to do some good by raising money for charitable causes - like children's health or helping families with food shortages.
What types of games are played at the event?
As outlined above, the event is focused on open gaming, so the easy answer is anything that you can find an opponent to play. That being said, the attendees of our event typically play family strategy games, or Eurogames. These are games that play in an hour or two, feature decision making throughout the game, and usually focus on player interactions over player elimination - games like The Settlers of Catan or Power Grid. In addition to these games, modern conflict oriented games are also usually well represented - games like History of the World, Memoir '44, or Twilight Imperium. What you won't see much of are miniatures games, like Warhammer, or collectible card games, like Magic: the Gathering - if your gaming tastes are focused predominately in either of those areas, this probably won't be the most fruitful event to attend. Take a look at our Past Events area to get a more in depth feeling for what a Tennessee Game Days weekend is like, and if you still have questions, let us know!
What is the Tennessee Game Players Association?
The Tennessee Game Players Association ("TGPA") is a non-profit organization formed in 2009 to both promote gaming in the mid-south region and to host events that do good while having fun. With so many cognitive and educational benefits associated with strategy board games, the TGPA hopes to increase their exposure with the general populace. The first step in this effort was our annual gaming weekend that not only serves these purposes but also helps us to raise some funds for additional efforts throughout the year. In addition, we've also consciously added components to our events that help raise money for important causes like food shortage and childhood health!