Tennessee Game Days Spring 2022
Weekend Schedule of Events

Doors Open at 8 am on Friday, March 4th
Main gaming room will stay continuously open until Sunday at 6 pm.
Library will close each evening around 10:30 pm and around 4 pm on Sunday.



Here;s a link to the schedule of events. We appreciate your patience as we navigate running a convention during a global pandemic. Sign ups for all events will happen on site starting Friday morning. Thanks for your understanding!
Confirmed 2022 Events
The Envoy Tennessee State Championship are back for 2022!! They will occur front and center in the main ballroom and a friendly representative from Envoy will be on hand to teach you the game and administer the tournament! It will be a fun way to learn and play a new game and you might win!! Games will include: Coup, Dimension, Finger Guns at High Noon, Outback, Saboteur, SHOBU, Silver, Skull King and Wordsy!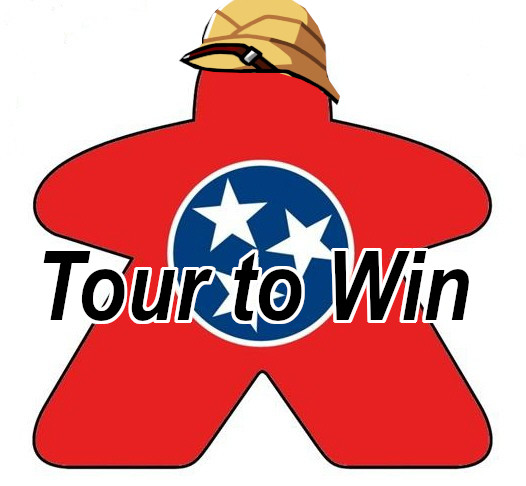 The Tour to Win program is back. We started this new signature program at the 2020 event and we loved the way it worked! It essentially combines our Tour of Gaming Destinations with our Play to Win program to create more than the sum of its parts. Tour to Win games basically come in two flavors:
SELF GUIDED TOUR - like your standard Play to Win, Self Guided Tours are games that are available to play throughout the weekend. Playing one gets you a ticket. You can then put that ticket into the prize bucket of the Tour to Win game of your choice. At the end of the weekend, we will draw winners from that bucket and you will win that game! But remember: you must have played that game during the weekend to win it! Really love a game you played - become it's advocate and earn more chances to win (advocates teach the games to others embarking on their own self guided adventure).
GUIDED TOURS - grizzled veterans will be leading you through the Guided Tour Games. Unlike the longer tours from ages past, these adventures focus on just one title, allowing you to choose your own adventure, from different gaming experiences throughout the weekend. Just like with Self Guided Tours, you will get a ticket for playing them and an extra ticket for participating in the guided experience. More ways to win! Great for veteran travelers and new gamers alike!

Enter to try to win as many different titles as you like, but each visitor is limited to winning one Tour to Win game!




The fine folks at the Gamealogocial Insitutute will be on hand to run their inaugural Tacticum Tournament! Tacticum is a two player game that pits against each other in a battle of tactics and strategy. Here's the game's description from the publisher:
You are a Centurion candidate. Before you will be entrusted to lead any of Rome's legionaries you need to be trained in tactics from small units to campaign size formations. Tacticum is designed to present different scenarios for you to work trough versus an opponent, who could be another centurion candidate or on of the pesky trainers.
Quick and exciting, plan to joing in and learn the game and face off in this tactical tournament at TGD! Sign up information will be released closer to the event in February!
From the game studio that brought you the hit deck builder Moonrakers, Mythic Mischief is a brand new game of hide and seek in a mythical library of lore! Here's the game's description from the publisher:
In Mythic Mischief, you play as a faction of Mythic Manor students competing to get as many of the other students caught by the Tomekeeper as you can without getting caught yourself. Each Faction has its own unique set of abilities to move around the board, move the other factions into the path of the Tomekeeper, and even alter the course of the Tomekeeper by moving bookshelves. Players are able to upgrade their Faction's abilities throughout the game by collecting powerful Tomes from around the library. The winner is the first Team to score 10 Mischief Points or the Team with the most points when the Tomekeeper finishes returning all of the Tomes after lunch!
IV Games will be on hand to teach this great new game to everyone and run a quick tournament to see who can get the most opponents caught by the Tomekeeper! Be sure to check this out!
Get in on the ground floor testing the next Wingspan in the Prototype Gaming Room! Designers will have their games available to play. Sign up for a game that looks interesting, show up at the time and play the game. The designer will be on hand to teach and to answer questions and, most importantly, to accept helpful feedback after the play is over! This type of event is super helpful for new designs. Everyone that helps will get their name entered for a prize! You help new designers, designers get helpful feedback, someone wins a new game - everyone wins in the prototype room

Warm up that flicking finger for the annual TGD Crokinole Tournament. Even if you've never played before, you will learn this game easily and have a fun time - we practically guarantee it. The goal of the game is a combination of flicking your checkers (or discs) into the center hole while, at the same time, trying to blast your opponent's checkers off the board. Once these discs get ricocheting, hilarity ensues. If you feel you need some tuning up, there will be several Crokinole tables set up for quick play throughout the weekend; plenty of opportunity to hone that perfect 20 point flick. So make sure to grab a partner and set aside some time Saturday Night for the Canadian parlor pastime that has taken the gaming world by storm.
Is your game closet overflowing? Do you own a game or two that never sees table time? Have you taken advantage of one too many "great deals" on the internet? Now's your chance to recoup some cash for those games - all without dealing with eBay or shipping. Building on the success of Fall 2021's program, we will once again be hosting a dsitrubted flea market - meaning it will be distributed across the weekend. Instead of storage tables lining the walls of the main ballrooms, those tables will instead be for displaying your wares. Buyers can browse on their own schedule and contact you via whatever method you direct (text me, see me at nearby table, etc.) to complete a sale. In lieu of a mandatory donation, we ask sellers to consider making a donation for us to add to the total for Second Harvest in whatever amount you deem appropriate.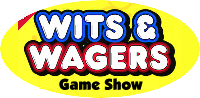 Grab two other people, come up with a goofy team name, and get ready for the fast and furious Wits and Wagers Game Show! Wits and Wagers is the award winning trivia game from North Star Games. Teams will compete to score the most points by answering off-beat trivia questions. Not a trivia buff? It doesn't matter! Players can win by making educated guesses or by playing the odds (it's Wits AND WAGERS). The event will last about an hour and the winning triumvirate will be rewarded -- so what are you waiting for? Start lining up some teammates! In the meantime, you can learn more about Wits & Wagers by visiting here.
Take one part Bingo, one part strategy and a helping of prizes and you have the Annual Tennessee Game Days Take it Easy Tournament. Even if you've never played Take it Easy before, you can join in on the tourney and still do well! We play one round, tally our scores, and award some prizes to the three highest finishers. It's a light, fun game that you can kibitz while playing and still have time to heckle our illustrious caller, who always picks out the tile you want to see the least. We'll have a quick rules rundown before hand, but you can always take a peek at the rules ahead of time by visiting here. We'd like to have room for everyone that wants to join in the tournament to play, so if you have a copy of Take it Easy, please bring it along!
Starting in 2008, TGD has made it a point to also give back to the community in conjunction with all our events - this year will be no different. Since having our annual food drive doesn't work any longer logistically, we now hold an annual TGD Charity Auction. We'll be conducting a silent auction throughout the weekend, with all the proceeds benefiting Second Harvest of Middle Tennessee. So come ready to bid on some great games and do some good at the same time!
The Tennessee Game Days Game Library houses a large number of gaming titles for attendees to check out over the course of the weekend. In addition to the games donated by game publishers for our con library, most of the library is made up of games loaned to the event by local gamers, so please handle them with care. To check out a title, a guest merely has to go to the library desk, select a game to play, and sign it out with their Gaming Passport. When you're done playing, return the game and check out another, and another, and another - all weekend long. You can check out a list of the library's contents by clicking here.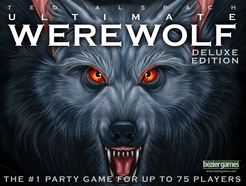 When the sun goes down, the werewolves come out to play! We have rooms set aside Friday and Saturday evenings for large gatherings of this social deduction classic. Villagers go to sleep - but one of you will fall to the werewolf. Can you figure out the traitorous werewolf in time?